News
The primary sector calls for fair prices "so it can continue to feed society"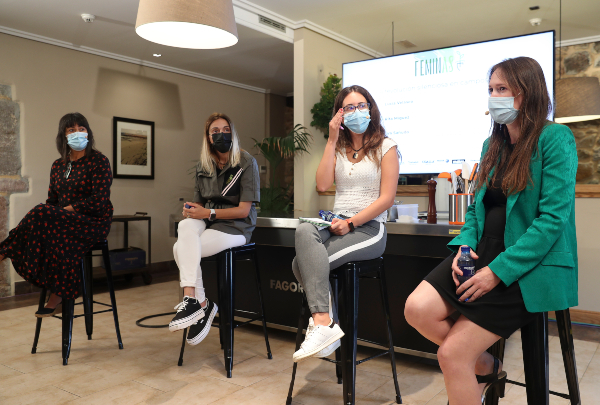 A livestock breeder, a shellfish gatherer and a farmer call for improvements to the primary sector at FéminAs, "because if things keep going the same way, we might disappear, and then we'll all be weeping".

Three women working in the primary sector voiced their opinions at FéminAs on Wednesday in defence of their professions, their gender, the rural way of life and environmental concerns. The women were livestock breeder Lucía Velasco, shellfish gatherer Rita Míguez and farmer Eva Sañudo, who set out their arguments and reasoning in their capacity as people well versed in the issues. Asturias journalist Jessica Puga acted as moderator in a discussion that ended with a loud warning cry: "The environment, nature, the sea ... it's almost reached the point of no return. Let's take action".

The talk began with a reflection on rural issues, the pros and cons of living in the countryside. All three were in favour of the model, but they also called for improvements to be made: "Urban-dwellers now view the countryside as closer and natural. In this case Covid has worked in favour of the tendency, but there are still huge inequalities with respect to urban life", Míguez explained. "Women in rural environments still lack basic necessities, but they have better living standards. This makes for a better work/life balance. All we have to do is make sure that people go there and that young people don't leave, and that can be done by making improvements to the roads, services and Internet and electricity connections", said Velasco. They praised the rural way of life, and welcomed those who dare to change a life in the city for a village, but they also demanded respect: "People who come to the countryside must respect local customs and traditions. It's good that they come and set up their businesses, but they have to adapt", warned Sañudo.

Then they brought up the big guns - acknowledgement of the primary sector. At this point all three converged with a demand: "We need to be paid a fair price". Otherwise, added the Cantabria farmer, "it'll be curtains for the primary sector, and then people will be weeping". Velasco, who runs a transhumance cattle business in Asturias, came up with some of the reasons: "Sometimes they pay so little that I'd rather leave the calves in the field. We're not appreciated as we should be, and if the primary sector is finished, the country dies. Nowadays, cattle breeders hanging in there like we're doing are heroes, because considering what they pay us, it's better to leave the countryside and work in an office for 800 €. That's where they're headed". "Without fair prices, you can't keep people in rural areas. It's the beginning of the chain", they chanted in unison.

Women and the primary sector. The call for fair prices was the general tonic in the entire sector, and the next call should be similar: "We don't want anything special, just for women to be appreciated and for their talent to prevail", said Velasco on the subject of women working in the primary sector. She was backed up by her colleague from Galicia, Rita Míguez, who is also president of the Fisheries Guild in Arcade (Pontevedra). "The fishing industry is very much a male sector, and I had a hard time getting to be president. No one went to any of the meetings, and they were all there at my first meeting. They joked a bit and didn't let me speak, but it was a matter of working on it, and we all agreed on our love of the sea".

The demands had been made, and the discourse was clear. The final warning came in defence of the environment: "Production models have to change. We've almost reached the point of no return", warned Sañudo. A point where clean, healthy seas are essential: "This business of plastic in our seas is despicable". Definitely despicable.

Magazine